WAM 235 Analysis- instrument
WAM 235 Analysis instrument for pH, salt level, oxygen, conductivity and temperature. The set includes the device WAM 235, pH and temperature probe, conductivity probe and calibration fluids. Everything together in a robus carrying case.
Product feature
Manual or automatic temperature compensation
Automatic adjustment function of pH 4, pH 7 and pH 10
SD-card-slot for recording the measurement values
Logging interval from 1 sec. to 8 hours
SD- card usable from 1 to 16 GB
Direkt data export from SD- card to EXCEL
HOLD and MAX/MIN- Function
Incl. PC- interface
Order No.: 5040-0236
Pricing information is only available for customers. Please log in.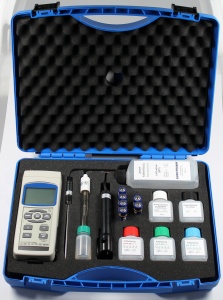 Technical data
Technical Data
Inputs
1x Temperature, 1x pH, 1x conductivity, 1x oxgen
Measuring range
pH measurement
Measuring range 0,00…14,00 pH
Resolution 0,01 pH

Salt level
Measuring range 0 up to 12% salt level
Resolution 0,01 % salt level

Temperature
Measuring range 0…+60°C
Resolution 0,1 °C

Conductivity
Measuring range 0…200mS
Resolution 0,1 uS…0,1 mS (depending on the measured value)

Total solute solids
Messbereich 0…132.000 PPM
Auflösung 0,1…100 PPM (abhängig vom Messwert)

Measurement of solute oxygen in water
Messbereich 0…20 mg/L
Auflösung 0,1 mg/L
Accuracy (±1 digit)
pH Measurement
Accuracy +-0,02 pH

Salt level
Accuracy +-0,5%

Temperature
Accuracy 0,8 °C

Conductivity
Accuracy +- 2% plus 1 digit

Total solute solids
Accuracy +- 2% plus 1 Digit

Measurement of solute oxygen in water
Accuracy +- 0,4mg/L
Connectors
jack plug for temperature
BNC connector for pH
Connector for conductivity and oxygen
Working temperature
0°C...+50°C
Display
1-Line LCD
Housing
Plastic
Dimensions
177 x 68 x 45 mm (LxBxH)
Weight
490 g
Power supply
6 x 1,5 Volt AA