COND 61 Set without conductivity electrode
Conductivity-Set incl. instrument, electrode holder, calibration solutions 1413 µS and 12,88 µS. With data logger function.
Ideal bench-instrument for measuring conductivity, TDS and salinity of fluids during quality control in laboratories and production.
Order No: 5040-0215
Pricing information is only available for customers. Please log in.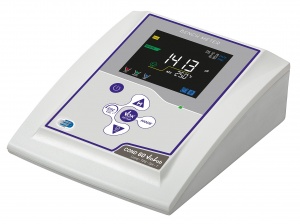 Technical data
| | |
| --- | --- |
| Measuring range Conductivity | 0,0...20,0-200,0-2000 µS |
| Resolution | Automatic |
| Accuracy | + - 2% f.s. |
| Calibration points | 1...4 |
| Calibration solution recognization | 84 µS, 1413 µS, 12,88 mS, 111,8 mS, 1x point user defined |
| Cell constant | 0,1 - 1 - 10 |
| Temperature coefficiant | 0,00...10,00% / °C |
| Reference temperature | 15 - 30°C |
| Cell type | 2-pole |
| Measuring range TDS | 0,01 mg/l...200 g/l |
| Accuracy | + - 1% f.s. |
| TDS factor | 0,40...1,00 |
| Measuring range salinity | 0,1 ppm...100 ppt |
| Accuracy | + - 1% f.s. |
| Measuring range Temperature | 0...100°C |
| Resolution | 0,1°C |
| Accuracy | + - 0,5°C |
| Memory | 500 data |
| Display | LCD with backlight |
| Inputs | BNC and Chinch/RCA (ATC) |
| Power supply | 230 AC adapter |
| IP protection class | IP 54 |
| Dimensions | 160 x 190 x 70mm |
| Weight | 550g |