T4200 2-channel laboratory instrument
High precision bench instrument
The ATP 4200 is designed for precise temperature measurements as demanded in labratory use and quality assurance (ISO 9000, etc.). The conversion of the resistance measuring value into a temperature measuring value is practised by use of calibration tables in the measuring device depending on the different probe specifications. It is not necessary that the user enters the calibration datas after each exchange of the probe using the keyboard built-in the measuring device. As the calibration datas of several probes can be stored in the measuring device, in a lot of cases it will be sufficient to relate the corresponding calibration datas to that channel to which a new probe had been connected. If the calibration datas of a newly connected prove are not yet stored in the measuring device, the user can draw up the calibration datas easily on a PC by use of a software included in the scope of supply. The complete drawing up and maintenance of the calibration tables is done on the PC. If required new calibration datas can be loaded from the PC into ATP 4200 by use of this PC-software.

Product features
uncertainty ±0,005°C
resolution: 0,001°C
range: -200°C up to +962°C
excellent long-term stability
2 channels (up to 81 with MUX)
display of both measuring channels
measuring current only about 0,5 mA for lowest heating-up of sensor
fast measuring: up to 10/sec
serial interface as standard
4-conductor-technology, Lemp-plugs
highly interference-proof
comfortable input and highest safety of sensor data
controllable from your PC
Order No.: 5020-0408
Pricing information is only available for customers. Please log in.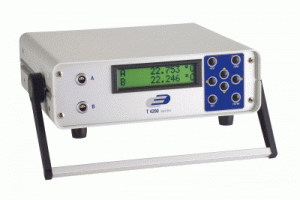 Technical data
Technical data
The following specifications are only valid for a nominal
operating voltage and a environmental temperature of 23°C.
Measuring range
-200°C up to 962°C (according to ITS-90)
-200°C up to 850°C (according to DIN EN60751)
Resolution
1 mK
Measuring uncertainty
10 mK (optionally 5 mK in the range of -50°C up to 250°C)
Measuring channels
2 (optionally up to 81 with external multiplexers)
Sensors
Pt-100 (optionally Pt-25) in a four-conductor-technology
Connectors
Lemo 1S, quadripolar, in front panel
Measuring current
about 0,5 mA switched DC (about 1 mA for Pt-25)
Measuring time
about 1 sec. per channel, about 0,1 sec. per channel with
reduced resolution
Long-term stability
≤ 5 mK / year
Temperature coeff.
≤ 1 mK / °C
Display
LCD, LED backlight, 2 lines ¨¤ 16 characters, 9 mm height
Units
°C, °F, K, ohm
Interface
RS-232, isolated
Operation
menu orientated, alternatively controllable by your PC
Memory
128 KB (optionally 512 KB)
Suppy
230 V, 50 Hz / 115 V, 60 Hz about 15 VA
Size
260 x 80 x 240 (width x height x depth in mm)
Weight
about 2,5 kg
Accessoires
external multiplexers with 8 or 16 channels (up to 5 switches may be cascade-connected)
PC software for operation of instrument and measuring data acquisition
temperature sensors