RH 896 Infrared thermometer with hygrometer
Perfectly designed for HVAC engineers. By simultaneous measurement of dewpoint and surface temperature you are able to avoid mould on walls. The robust case protect the instrument in rough areas.
Infrared thermometer with thermocouple input and humidity sensor and laser-sighting

Product features
Non-contact measurement with input for thermocouple probes type K and humidity sensor
Large display area: Simultaneous display of temperature and humidity reading or Max/Min values
With laser sighting and backlight
Wide temperature range

Infrared: -50...+500°C
Thermocouple: -100...+1400°C

HOLD-, MAX-, MIN-function
Order No.: 5020-0896
Pricing information is only available for customers. Please log in.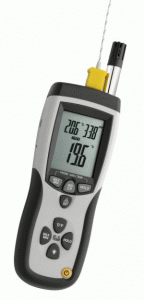 Technical data
Optical Resolution
30:1
Temperature range
-50°C...+500°C
(thermocouple input: -100...+1370°C)
Display resolution
0,1°C (above 200°C 1°C)
Accuracy
±2% or 2°C whichever is greater
(thermocouple input: ±1% or 1°C whichever is greater
Spectral response
6 - 14 µm
Working temperature
0...50°C
Battery life
Typically 40 Hours operating time
Battery
1 x 9 Volt block battery
Dimensions
255 x 45 x 34 mm
Weight
1150 g
Areas of application
Areas of application
With IR-Thermometry you are able to measure the surface
temperature. The short response time and no need to touch
the object is an important advantage.

- Moving parts (running paper webs...)
- Determine the surface temperature of gears and motors
- Live parts (electrical components, transformers...)
- Non-touchable parts (freshly painted parts)
- Food and corrosive substances
Functions
Functions
HOLD/MAX/MIN-function
C/F-switchable
Laser, Backlight
Thermocouple input
USB-interface and Software for Online documentation
incl. transport case