Proscan 520 Infrared thermometer
Professional - Infraredthermometer with laser and 40:1 optical resolution
Product features
Temperature range from -32 up to 760°C
Precision glass optics for accurate noncontact temperature measurement
Fast 0.3 second scanning of cold and hot spots
with USB-port, cable and Software for Online-measurements
with thermocouple socket and probe (type K)
Laser sighting with narrow beam aiming for accurate readings
Adjustable acoustic High-/Low-alarm
Order No.: 5020-0520
Pricing information is only available for customers. Please log in.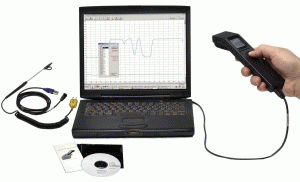 Technical data
Temperature range
-32...+760°C (-20...1440°F)
System accuracy
± 1°C or ± 1% from +20...760°C (whichever is greater)
± 1,5°C from 19,9...0°C
± 2,5°C from -0,1...-20°C
± 3°C from -20,1...-32°C
Optical resolution (D:S)
40:1
Display resolution
0.1°C (0.1°F)
Response time (95%)
300ms
Ambient temperature
0...50°C
Spectral response
8 - 14 µm
Emissivity
0.100-1.500
Signal processing
Min/Max/Scan/Hold/Offset/°C/°F
Backlight
Yes
High/Low alarm
Visual and acoustic
Laser
<1mW Laser class IIa, narrow 9mm Offset
Weight/Dimensions
150g, 190x38x45mm
Battery
9V Alkaline battery
Battery life
20 hours with 50% laser and backlight; 40 hors laser and
backlight off
Areas of application
Applications
Non contact thermometers use infrared technology to measure
of materials up close, or from a distance. You simply aim,
pull the trigger, and read the temperature (response time
appr. 0.3 second).

A wide temperature range of -32 to 760°C, laser aiming and
an optical resolution of 40:1 allow technicians to carry
out
accurate noncontact surface measurements for electrical and
mechanical maintenance, HVAC checks, automotive testing and
other applications, anywhere that temperature is a factor.

Mechanical Maintenance
Observe temperatures of motors and drives, bearings and
valves. Gather temperature data of heating and ventilation
components. Check furnace performance and steam
distribution
systems.

Electrical Maintenance
Infrared thermometer are proven time saving tools for
predictive maintenance of electrical systems. Check out
temperature problems safely with connectors, fuses,
electric
motors, motor windings, insulations, electrical wiring and
electrical cabinets before damages occur.

Automotive Testing
Check temperatures of engines and catalytic converters,
scan
ignition system problems, analyse cooling system
restrictions, diagnose air conditioning systems, check
tyres
and brakes with uneven braking.