P770B multi-function instrument for temperature-humidity-airflow-pressure inkl. Bluetooth- connection
The two multi-function-instruments are outstanding for theri high accuracy of ±0,1°C. You can optional plug in Pt100 or thermocouple (type J, K, L, N, R, S, T), as well as probes for humidity and flow.

Incl. Bluetooth- connection for connection to DEGraphBlue Application
(App can be downloaded free of charge in the Play or App Store)

The universally applicable process-controlled hand-held instruments, Series P700, are ideal for measuring operations in which high accuracy counts or the possibility of online documentation is demanded.

Product features
USB interface
Optional DE-Graph Windows Software for graphic and tabular documentation
High measuring accuracy
Integrated calibration function for simple compensation of sensor tolerances
Physical 1-point, 2-point or 3-point calibration function
Measuring channels are freely assignable
Recording maximum, minimum, hold and average values
Integrated sensor holder for one hand operation
Mains operation possible
Simultaneous display of two measured values
Differential temperature display
Order No.: 5000-B770
Pricing information is only available for customers. Please log in.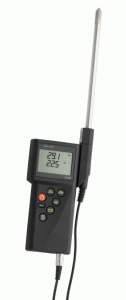 Technical data
Inputs
2-channel, Pt100, thermocouple: type K, J, L, N, R, S, T,
humidity, dewpoint, flow
Measuring range
Pt100
-200°C...+850°C
Thermocouple
according DIN (-200°C...+1760°C)
Ohm
0...400 Ohm
Humidity
0 %...100 %rH
Flow
0...40 m/s
Accuracy
Pt100
±0,1°C von -100°C...+200°C
otherwise 0,1 %
Thermocouple R, S
±1,0°C +0,1 %
Thermocouple K, J, L, N, T

±0,2°C from 0°C...+200°C
±0,5°C to 1000°C
±1,0°C remaining range

Humidity
±1,5 %rH
Flow

1 % of end value

Ohm
0,5 % of measuring range
Resolution
0,1°C respectively 0,1 %
Connectors
DIN 8-pole
Working temperature
0°C...+40°C
Display
2-line LCD
Housing
plastic
Dimensions
200 x 93 x 44 mm (LxBxH)
Weight
300 g
Power supply
9 V battery
Batterie life
appr. 20 h
Areas of application
Areas of application in industry and laboratory for example

For taking measurements for quality assurance under ISO 9000
As a reference instrument for checking production
For taking comparison measurements in service and repair
For registration of humidity and temperature in air conditioning and environmental engineering
Long-period monitoring of temperature and/or relative humidity with online documentation