LOG210 PDF- data logger with display for temperature and humidity
Temperature logger for temperature- and humidity. Monitoring inclusive motion sensor. Integrated USB-interface for automatic PDF-creation, incl. wall mount.
Memory for 100.000 measurements, useable without software (default settings with 5 minutes interval), automatic PDF creation (no drivers required), optional software download), free adjustable recording interval 10 seconds up to 24 hours (via Software Log Connect), battery lifetime appr. 4 years (recording interval >15 minutes), status- and alarm-LEDs, defeatable display, resettable Max-Min values, time marking functions for measuring results, Motion sensor for shock recording e.g.: door or windows closing
Order No.: 5005-0210
Pricing information is only available for customers. Please log in.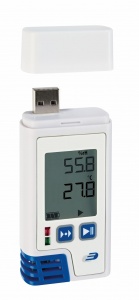 Technical data
| | |
| --- | --- |
| Measuring range Temperature | -40...+70°C |
| Resolution | 0,1°C |
| Accuracy | +- 0,5°C (0..60°C) otherwise + - 1°C |
| Measuring range Humidity | 0...100% rH |
| Resolution | 0,1% rH |
| Accuracy | + - 3% rH (40..60%). + - 3,5% (20...40% and 60...80%) otherwise + - 5% |
| Memory | 100.000 measurings |
| Voltage | 1 x 1/2AA size 3,6 volt |
| Battery life | appr. 4 years (with an intervall of > 15 min) |
| Dimensions | 91,5 x 42 x 20 mm |
| Weight | 70 g |