HumidCheck Mini Moisture measuring instrument
For moisture measurment of wood and construction material
Order No.: 5020-0342
Pricing information is only available for customers. Please log in.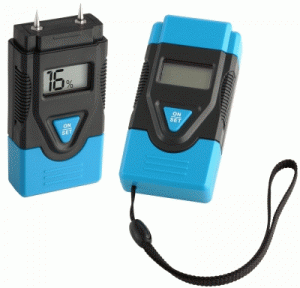 Technical data
Measuring range
wood 6-42%
building material 0,2...2,0%
Accuracy
wood <30% +-2%;>30% +-4% building material <1,4% +-0,1%;>1,4% +-0,2%
Battery
4 x LR244
Dimensions
80 x 40 x 20 mm
Weight
50 gr. (incl. packaging)
Areas of application
Applications
Used to measure the moisture level in sawn timber
(also cardboard, paper) and hardened materials
(plaster, concrete and mortar). It displays the moisture
level in the material straightaway.


Functions
Functions
For moisture measuring, scale for construction material
and wood, automatic instrument test, with clip