FlashStick Infrared thermometer
For contact-free measuring of surface temperature in 1 second. Simply aim at the object to be measured and press the button
Order No.: 5020-0326
Pricing information is only available for customers. Please log in.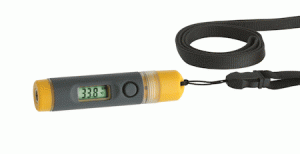 Technical data
Technical Data
Measuring range
-33°C...+199°C
Accuracy
+- 2°C or +-2% (whichever is greater)
Repeatability
+-1,0°C or 1%
Display resolution
0,1°C
Response time
Appr. 500 ms
Working temperature
0...50°C
Storage temperature
-20...50°C
Emissivity
0.95 fix
Distance: Spot size
1,3 : 1
Power supply
1 x battery cell CR2032
Housing
Plastic
Dimensions
36 x 12 x 91mm
Weight
69g
Product profile
Our FlashStick is very simple to use: To measure a
temperature point unit at object, pull the trigger and
read
the measuring value from the display. The Mini-Flash is
used for easy and quick measurements on surfaces.