ET 110 Built-In-Thermometer -40..+110°C
Low cost and robust built-in thermometer with black built-in frame. The insertion/immersion probe with silicon cable is temperature resistant up to 110°C.
Product features
big display
including preassembled insertion probe with 3m silicon cable
C/F-switchable
Order No.: 5020-0240
Pricing information is only available for customers. Please log in.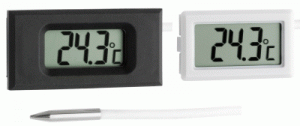 Technical data
Sensor
NTC
Measuring range
-40°C...+110°C
Resolution
0,1°C
Accuracy
±1,0°C(-20°C...+70°C), remaining ±2°C
Response time t90
appr. 15 seconds in water
Dimensions
32 x 64 mm (LxB)
Cutout 25 x 58 mm

Tube
30 x 6,5 mm (LxD)
Weight
100 g