DDM 900-100/1000 bench thermometer, 1mK resolution
The DDM 900 is designed for precise temperature measurements as demanded in calibration-laboratory use and quality assurance.
Product features
Resolution: 1 mK
Range: -220 °C to +1200 °C
Pt100, Pt500 and Pt1000
User defined coefficients for ITS 90 and EN60751
Fast measurements: up to 8/s
Excellent long-time stability
Compensation of self heating error
No impairment of the measurement results through parasitic thermovoltage
Extensible up to 81 measuring channels
True 4-wire-technique with Lemo-plugs
High EMC
High data reliability in terms of sensor coefficients
Accessories such as e.g. multiplexers and sensors can be found in our reference temperature catalog. You can download it directly here
Order No.: 5020-0901
Pricing information is only available for customers. Please log in.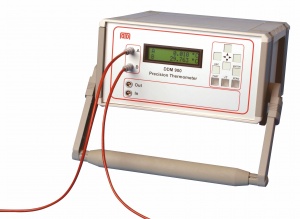 Technical data
Measuring range

-200°C up to 962°C (according to ITS-90)
-200°C up to 850°C (according to DIN EN60751)

Resolution
1 mK
Measuring uncertainty

Pt100: 10 mK (5 mK -50°C...+250°C)
Pt500: 15 mK (7 mK -50°C...+250°C)
Pt1000: 10 mK (5 mK -50°C...+250°C)

Measuring channels
2 (optionally up to 81 with external multiplexers)
Sensors

Pt-100, Pt500 and Pt1000 in 4-wire circiut

Connectors
Lemo 1S, quadripolar, in front panel
Measuring current
about 0,5 mA switched DC (about 1 mA for Pt-25)
Measuring time
about 1 sec. per channel, about 0,1 sec. per channel with
reduced resolution
Long-term stability
5 mK / year
Temperature coeff.
1 mK/K
Display
LCD, LED backlight, 2 lines ¨¤ 16 characters, 9 mm height
Units
°C, °F, K, Ohm
Interface
RS-232, isolated
Operation
menu orientated, alternatively controllable by your PC
Memory
128 KB (optionally 512 KB)
Suppy
230 V, 50 Hz / 115 V, 60 Hz about 15 VA
Size

300 x 160 x 300 (width x height x depth in mm)

Weight

8.00 kg