BatteryCheck
Suitable for batteries and accumulators (type AAA, AA, C, D and button cells with 1.2V, 1.5V, 3V and 9V block batteries). Indication of the remaining battery voltage in volts and charging status with color scaling.
Fast control of batteries and accumulators
Does not require its own battery
Small, compact and robust
Ord.No.: 5020-1126
Pricing information is only available for customers. Please log in.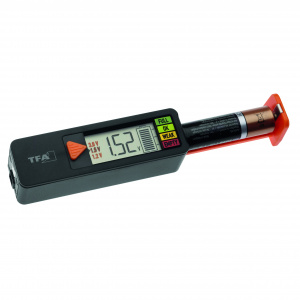 Technical data
Measuring range
1,2V = 0,92...1,50V = 0,99...2,00V 3,0V = 2,00...4,00V, 9V = 4,00...9,99V
Dimensions
89 (150) x 25 x 27mm
(L x B X H)
Weight
38g