AirControl 5000 CO2 istrument with data logger
Large display with History-function for table- and wall mounting, inclusive USB-power supply, measuring range 0...5000 ppm, inclusive Micro SD-card, logger-function save data in a CSV file on a Micro SD card (inclusive). Inclusive LED-display,indicate temperature, humidity and CO-concentration.
Großes Display mit Historiefunktion für Tisch- und Wandmontage. Inkl. USB-Netzteil, Messbereich 0...5000 ppm, Inkl. Micro SD-Karte, Loggerfunktion speichert die Daten als CSV-Datei auf der Micro-SD Karte. Inkl. Ampelanzeige (LED), zeigt Temperatur, Feuchte und CO2-Gehalt an.
Order No.: 5020-0111
Pricing information is only available for customers. Please log in.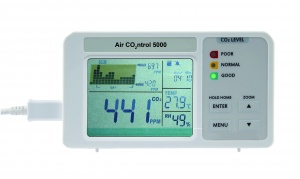 Technical data
Measuring range

0..5000 ppm
0..50°C
5%...95% rF

Resolution

1 ppm (0-1000 ppm), 5ppm (1001-2000 ppm), 10 ppm > 2000 ppm
0,1°C
1%

Accuracy

+- 50ppm or 5% whichever is greater, from 3000 ppm + - 7%

Dimensions

120 x 66 x 33 mm

Weight

103g (without power supply)